Lisa Cox, a teacher at Childers Knapp Elementary and Carla Tate, the school's counselor, are very good friends. However, not even their deep friendship could have prepared Lisa for a project Carla launched to benefit Lisa's son.
Ayden Cox, a fifth grader at Shaw Elementary, was born with muscular dystrophy. His father, Chris, has it, too. His sister, Caitlan, a sixth grader at Hellstern Middle School, has it but is not as advanced. Caitlan and other kids in the neighborhood the Cox family lives in were leaving Ayden behind when they got on their bikes. Competitive, Ayden wanted to keep up with the rest of the bicycle riders.
"I told Carla and our principal, Cindy Covington, how much Ayden wanted a bicycle he could ride like anyone else," Lisa Cox says. "After that conversation they went to work. To see them fill in the gap and help me has been a priceless gift."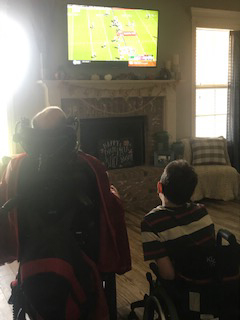 Carla's husband, Vince, who shares ownership and is the Chief Financial Officer for Central States Manufacturing, took the project. He was given several pieces of a bike and he and his staff attempted to build a specialized bike for Ayden. Things didn't come together so they ordered another bike and customized it.
Once it was constructed some modifications were necessary. Vince Tate took the bike to Tontitown Machine and Cycle where James "Mr. Mac" Chandler made the proper adjustments. Once the seat was raised and the handles modified to make it easier for Ayden, the bike was delivered.
"It meant the world to me to see Ayden have the freedom to play with his friends and be normal," says Lisa Cox, noting the bike was delivered at no cost to her family. "Before he had the bike he couldn't keep up with his sisters or his friends."
"It's really nice to be able to keep up with other people," Ayden Cox says. "I really wanted that bike. I feel really special that so many people took time to do this for me."
Ayden didn't need a bike to make an impact on his community at Shaw Elementary. The school's principal, Cynthia Voss, notes, "Ayden is the most positive student to be around. It doesn't matter if it's rain or shine he always has something good to say. Socially, he's in the middle of everything."
Shaw assistant principal Shelly Bewley adds, "Ayden uses his disability as motivational. He doesn't let it stop him. He sets a great example for our students and all of us with his perseverance."
Lisa Cox credits the Shaw staff for "really stepping up to help Ayden. I couldn't do this without them. They have helped him go from a walker to a wheelchair. They've been tremendous."
His teacher, Lisa Taylor, says Ayden "is very smart. And, he has an amazing sense of humor. He's always cracking jokes."
Besides being humorous, Ayden enjoys video games and Razorback athletics. He says, "Rocket League and Minecraft are my favorite video games. I've loved the Razorbacks since I found out about them. My dad and I watch them on tv."
All of this has given Lisa Cox a deep appreciation for the Springdale School District. She has been teaching for 22 years and started at Walker Elementary. She was teaching in Hot Springs when she met Chris. He only had early symptoms of muscular dystrophy when they married 12 years ago.
They decided to move back to Northwest Arkansas and Lisa taught in Siloam Springs for two years, working for Covington, who was a principal there. When Covington was named the first principal for the about to open Childers Knapp Elementary School four years ago, she asked Lisa to join the faculty there. It's a move she will never regret.
"Childers Knapp is a great place to teach," Lisa Cox says. "I receive a lot of support. After school each day I go home and nurse my family."
But, Lisa Cox isn't nursing her family alone. Her extended families at Childers Knapp, Shaw and Hellstern are providing amazing encouragement. Deep relationships are among the many reasons Springdale Public Schools are #THEChoice.